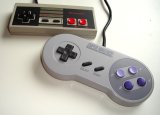 When playing NES and SNES games with an emulator, nothing is better than using the original gamepads (and mouse).

SNES Adapter
Many people (including me) have been happy doing this with homebuilt
parallel port adapters
for years but unfortunately, parallel ports are becoming less common these days. USB is now the way to go for such devices so I decided to build my own NES/SNES gamepad to USB adapter. However, due to the way USB works, the adapter is a little more complicated.
Note:
There is now a new version which supports up to
4 NES and/or SNES controllers
at the same time.

Ready-to-use adapters available!