SMS to MarkIII/SMS-J cartridge adapter
Introduction
While european and american SMS game cartridges use a 50 pin connector, the japanese SMS and Sega Mark-III use a 44 pin connector. The systems are otherwise compatible and with a very simple adapter, foreign games can be played on Japanese systems.
A few years ago I built such an adapter and decided to publish the schematic on this page.
I also designed an enclosure you can print and use with the adapter PCB sold by
raphnet-tech
.
I have not published the gerber files for the PCB. Save time and support me by buying an assembled PCB :)
Here are pictures of the result:
Printed Circuit Board
To build the adapter, I designed a simple PCB since this is much easier to put together and cleaner than manually rewiring a Mark-III cartridge.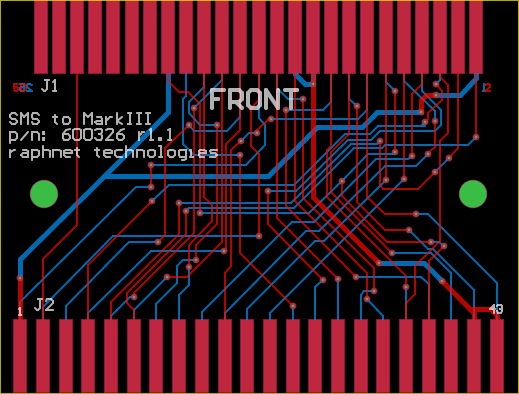 Here are pictures of the assembled PCB. They are sold in my
online store
.
Enclosure
I designed this 3D-printable enclosure to protect the PCB, facilitate use and avoid potentially desastrous orientation mistakes...
Here is what it looks like once printed:
Print your own!
Here is the .STL file:
sms_to_markiii.zip
Disclaimer
I cannot be held responsible for any damages that could occur to you or your equipment while following the procedures present on this page. Also, I GIVE ABSOLUTELY NO WARRANTY on the correctness and usability of the informations on this page. Please note, however, that the procedures above have worked in my case without any damages or problems.
Now you cannot say that I did not warn you :)