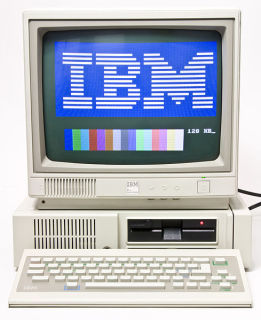 The
IBM PCjr
(The PC junior) is a cost-reduced version of the IBM PC targeting the consumer market. The PCjr is clearly better equipped for games than its big brother, the PC:
| | PC | PCjr |
| --- | --- | --- |
| Video | 320x200, 4 colors | 320x200, 16 colors |
| Sound | One channel, square wave, fixed volume. | 3 Channels + noise, programmable volume |
| Joystick port | As an option (expansion card) | Two built-in ports |
The video circuit supports a 320x200 graphics mode where simultaneous use of 16 colors is possible. (vs. only 4 on PC/CGA), and and the audio side of things, the PSG SN76496 chip, with its 3 channles (square wave with programmable volume) + noise channel is much more capable than the PC speaker (fixed-volume single square wave channel).
Despite the critics and the commercial failure of the PCjr, for someone like me who like programming games for old PCs (such as
RATillery
) the PCjr has a
very interesting unique element: Cartridge slots!
(just like game consoles and many non-PC systems such as the Commodore 64!)

Above: The PCjr front side with its two cartridge slots.