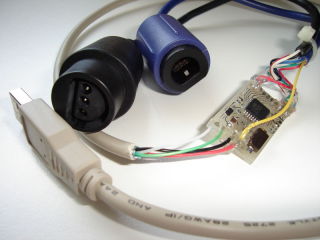 Nintendo 64 and Gamecube controllers are excellent controllers which are quite appropriate for many PC games, and of course are perfect for emulators!. The microcontroller firmware in this projet implements a standard HID joystick which means that no special device driver is required. It works perfectly well under Linux and Windows.
Features:
Supports Wired Gamecube controllers and dance mats (Official and clones)
Supports Wireless controllers (Known to work at least with the Nintendo Wavebird (since firmware version 1.2) and an Intec wireless controller).
Supports N64 Controllers (Official and clones, including the famous HORI-mini)
Supports the N64 "Rumble Pack" and the Gamecube controller built-in vibration function. (Since release 2.0)
Supports the Gamecube Keyboard (ASCII ASC-1901P0 tested) since release 2.9
Supports the DK Bongos.
NOT SUPPORTED YET: N64 Memory cards.
Why?
One of my friends wanted to play Nintendo 64 games on his PC using an original controller... so I developped an adapter for doing this. But since Gamecube controllers use a very similar protocol, it was easy to support Gamecube controllers too.
Gamecube and Nintendo 64 controllers both work at 3.3 volts. But on the USB bus, only 5 volts are available. For this reason, a voltage regulator is required. Apart from the different firmware, this is the only difference (and additional complexity) this project has with my
Nes/Snes controller to USB
project.

Ready to use adapters available