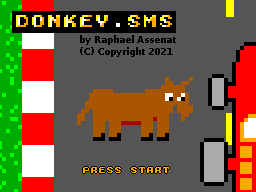 After creating a
reprogrammable SMS cartridge system
, I wanted something I could freely pre-program in the cartridges I would sell, to serve as a test for me, but also to allow users to confirm what they received is functional, before of course overwriting everything with content of their own.
Instead of a simple test ROM which would display technical data on screen, I decided to make a game!
As I had no experience programming for the SMS, it had to be something simple, but not
too
simple, otherwise I would not learn much.
I decided to make a game similar to DONKEY.BAS. This allowed me to have a scrolling background, to play with the color palette, to use sprites, etc. I even hit a few limitations, such as the maximum number of simultaneous sprites on a line, which forced some changes to the game logic and layout. Exactly what I hoped: There were a few obstacles, but nothing too difficult.
Conclusion: I have a complete game with 3 modes, some music, a demo mode and scores saved in the cartridge flash. I also think that my version is more fun than the original, but feel free to disagree. But what matters most is that I can distribute it freely, since it is my own game.