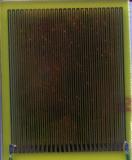 I got the idea to draw a serpentine pattern on the unused area of a PCB, and to test how much heat I could produce with it before melting the tracks. On the left, you can see what it looks like. It has a 3.6 ohms resistance.

I think this PCB could be used for "useful" applications.
Keeping a coffee cup hot (by placing the cup on the pcb)
Keeping a device warm enough to work properly (if it has to be outside during the winter).
Note:
I know that there are better and more reliable ways to generate heat. I did this experiment mostly for fun.