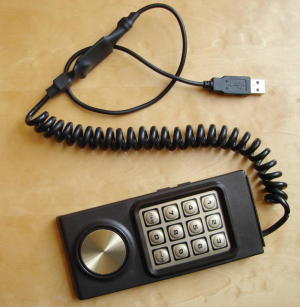 Someone requested that I convert an Intellivision 1 controller to USB. The result can be seen on the picture on the left. As usual, everything is open-source so you'll find schematics and source code on this page.
A fun part of this project is the fact that I've had no choice but to figure out how the controller worked by myself. I did some research, but could not find any pertinent information about how it worked. But fear not! I have taken the time to create an
how it works
section to detail my findings.
The key features of the result are:
All 16 directions (+ Idle position) of the disc are functional
All "Telephone" style buttons are usable
All 4 side buttons are usable (Top left and Top right are equivalents though)
No custom drivers required. Device is standard USB Hid (Human Input Device)