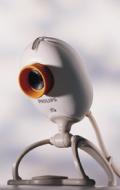 When I was a child, I wished I had a video camera to play with. Now that I finally own a webam, I decided to do fun things with it.
I dont use my webcam to do videoconference... And I would really appreciate if someone could explain why we call them
Web
cams? What's the link between the web and an USB camera?
If you have done cool projects using your webcam too and would like me to link to your page or add an entry on this page, please
contact me
. If you saw a related page or know a page about any cool webcam project, please
contact me
. I'll add them to the
Other people's projects
section.