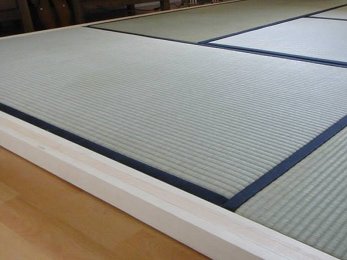 I am really fond of tatami. During my first trip to Japan, I became charmed by the peaceful appearance of tatami rooms. The texture, very enjoyable to the feet, is also an invitation to take a nap directly on the floor, letting oneself be soothed by the delicate hay perfume filling in the room.
A friend sharing a similar enthusiasm for tatami, told me about his plans to acquire 5 mats for one of his rooms. Of course, as room dimensions of North American houses are not set to receive a non-fractional quantity of tatami, some kind of enclosing frame would be required.
Finding a frame is not so easy. There are a few different standard tatami sizes, so the frame has to be matched to the tatami type. Also complicating things was not only the price of such frames on this continent being already too high, but also the high shipping fees due to properly sized frames being available only in fairly remote stores.
In short, it quickly became clear that a do it yourself solution would be best. The solution is presented on this page.