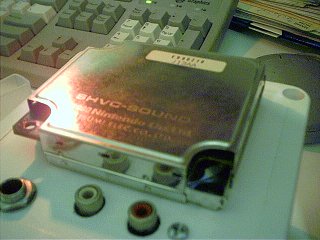 One of the most important component inside the Snes is the Audio Processing Unit (APU). The APU is responsible for playing music and sound effects. The APU is made with a processor (SPC700), some memory (64Kb), a DSP and a Digital/Analog converter. The Snes's main CPU communicates with the APU using 4 ports.
Here is a page explaining in greater details what's inside the APU:
How sound on the SNES works
The .spc format Snes music files are 'save states' of the APU components, similar to the save states of the whole Snes we obtain by pressing F2 in zsnes, but this time, only the APU memory, CPU and DSP registers are saved. This is sufficient to playback game music because most games simply load a playback program in the spc which once started, plays music endlessly. When asked, the program also plays sound effects.
We can playback .spc files with a spc player(standalone or plugin). A spc player is a simplified Snes emulator (APU emulation only). I had been hoping for a long time to be able to use a real APU to play spc's to get a perfect reproduction of how it sounded on a real Snes (Of course emulators can do a better job than the real Snes APU, by using higher sample rates, better resampling, better interpolation, etc... but here, it is a matter of authenticity and cool factor).
I found how to connect a Snes APU on a parallel port on
CaitSith2's website
, as well as a simple program to upload .spc files to the module and play them back.