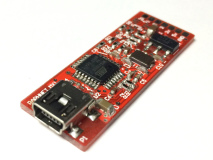 This USB-specialized circuit board design is inspired from my previous
Multiuse Tiny 1
and
Multiuse PCB2
projects. This time, since a micro-controller with native USB support is used, it is possible to transfer data at 12 Mbit/s (Full speed) unlike the older designs which, due to the use of a software-only USB implementation (
V-USB
), were limited to 1.5 Mbit/s (Low speed).
Besides the higher transfer rate, it is also possible to have the host (the PC) poll the adapter at closer intervals, which is a great way to reduce latency. Also, since the micro-controller does not handle low level USB communication in real-time anymore, some restrictions are lifted. For instance, disabling interrupts during time critical operations, a necessity difficult to work around in many situations, is no longer prohibited.
Specifications:
Atmel atmega32u2 micro-controller clocked at 16MHz.
Mini USB connector
8 input/output pads
3.3v, 5v and GND pads.
LM1117-3.3 (800mA LDO) 3.3v regulator on-board
Dimensions: 1.825" x 0.619" x 0.217" (46.36mm x 15.73mm x 5.5mm)
Pre-programmed with Atmel DFU bootloader. Flash your own firmware through USB without special equipment!
Compatible with Dean Camera's LUFA library.
Note:
This board is
not
arduino compatible.