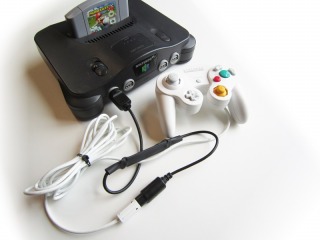 A common problem with the N64 controllers is the joystick. It wears down and become unusable. However Gamecube controllers don't seem to wear down much and are quite similar to the N64 controllers.
So I've been asked many times if I could design an adapter for using Gamecube controllers on a N64 system. This project is the result.
Features:
Official wired Gamecube controllers supported (includes the white Japanese controller with extra long cable).
Nintendo Wavebird and Intec wireless controllers supported.
Should work with any device equivalent.
Programmable button mappings to improve gameplay.
Low latency polling algorithm (approx. 5ms, less than one frame).
Upgradeable firmware
LED or Buzzer output for programming feedback.
Partly assembled or complete adapters are available in the store!
Circuit only, assembled and programmed.
(Solder your own wires)
Complete adapter
(ready to play!)