The
Tandy 1000 EX
personal computer has two video outputs:
NTSC
composite video (For a TV monitor) and a
CGA
(Color Graphics Adapter) video output. More precisely, the Tandy 1000 video circuit is in fact of the TGA type, but electrically it is equivalent to CGA.
Here are a few examples of images obtained through the NTSC output: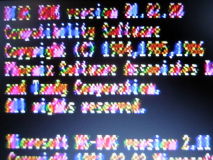 The NTSC image quality is way inferior to what can be obtained using CGA, but unfortunately I don't own a CGA display. On the other hand, as I have a surplus of VGA monitors, I became interested in finding a way to build a CGA to VGA converted.