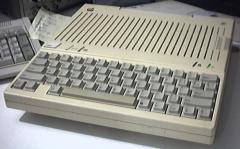 When I was young (12 or 13 years old), someone gave me an Apple IIc computer. It became the only computer I could access anytime at home. I was already a computer addicted, and I had a lot of fun progamming in basic with this computer. One day, my family bought a 386, and the Apple IIc went into a closet and dust started to gather on it. I did not use the Apple for the next 8 years.
This year (2003), after discovering by mistake a big archive of software for the Apple IIc, I decided to get it out of the closet, and to find a way to play games directly on it (without an emulator). Unfortunately, the Apple IIc did not work anymore. When I turned it on, the floppy drive would not start, and the screen was being filled with random garbage. (I think that a few memory chips could have gone bad..)
Because I could not rely on my old Apple IIc, I decided to start searching for another Apple IIc for sale. This has taken a lot of time. After a few months, I found one on lespac.com. It cost me 20$ Can. And it works perfectly!